if ($urlpagename =="pluck" ){ ?> } ?>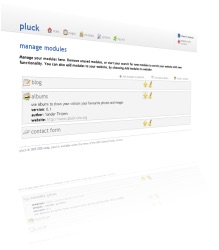 Pluck
Here you find several Themes which work under Pluck 4.7.
Move over the image to see a larger image
Download the latest build of Pluck-CMS which I tested here
Download pluck
Just download and extract this to you webserver. When you go to the folder it will guide you through the install. You can add the themes under the Options, Theme manager.
Note! These themes were more recent made compatible with Pluck 4.6, I have not created these themes, I only supply them as download for Pluck 4.7
All modifications made by me are technical in nature and not with the display of the theme.